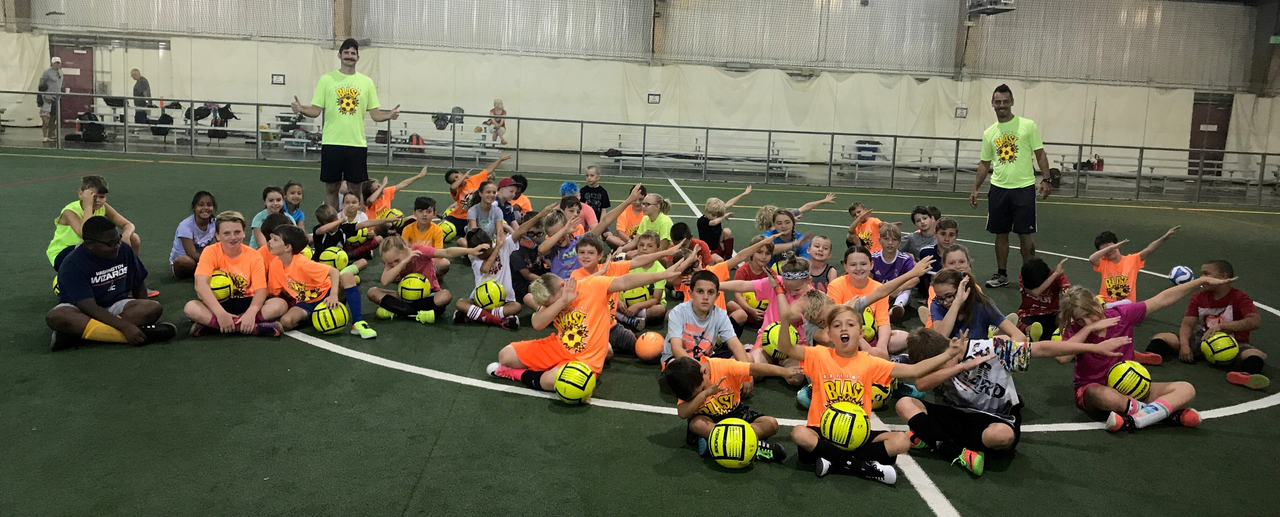 During the summer months, the Baltimore Blast holds soccer camps for youth soccer players ages 7-13 throughout the Baltimore Metropolitan area. With an emphasis on individual skills and game situations, the Blast players encourage the development of personal achievement and contribution to team effort. Players of every skill level will benefit from instruction by members of the 2003, 2004, 2006, 2008, 2009, 2013, 2016, 2017, and 2018 Champions Baltimore Blast.
The Baltimore Blast Summer Soccer Camps are for youth players who desire to reach their full potential in all areas of their lives. Blast campers strive toward the improvement of soccer skills that form a solid foundation upon which they can continue to build on. In addition to the emphasis on soccer skills, Blast campers learn the game, enhance their soccer skills, interact with pro players and learn the values of teamwork, diversity, responsibility and sportsmanship.
Blast Camps -
COMPARABLE PRICES WITH Daycare!
A Blast Summer Camp T-Shirt
Ages 11+: Size 5 Ball
Ages 6-10: Size 4 Ball
Instruction from Blast Players
General Information:
A.M. camps run from 9 a.m. to Noon
P.M. camps run from 6 - 8 p.m.
Camps are coed for youth soccer players ages 6-13
Full payment is due with each application
Camps are non-refundable
Online applications are assessed a $10 online fee
The Baltimore Blast is not responsible for soccer balls that are lost at camp
Teams and campers who wish to be grouped together at Blast Camp should submit their registration forms at the same time
The price of each camp will increase $10 if you register on the first day of camp
For more information on the upcoming Baltimore Blast Summer Soccer Camp season, please call 410-73-BLAST or email mmeszaros@baltimoreblast.com
Team Camps Are Also Available
Teams that want team-oriented training can register for a Baltimore Blast Team Camp. Team Camps are designed specifically for the needs and goals of each individual team. Team Camps offer 10 hours of training, with dates, time and location determined by the team. Training will focus on team responsibilities, systems of play and offensive and defensive tactics. Additional focus on technical and tactical situations that players experience during games.
Cost: $120 per person (Shirt Included)
Minimum of players for a Team Camp is 10
Each Team Camp participant will also receive one ticket to one Baltimore Blast home game during the upcoming regular season (coaches must provide a written roster of team camp attendees so the Blast tickets can be mailed to campers after the start of the season)
Ticket vouchers for the game will be mailed or emailed to campers before the game
To arrange a Team Camp, please call David Bascome at the Blast office at 717-514-1612 or email at baltimoreblastcoach@gmail.com .
Camps are Non-Refundable
The Blast Tax ID Number is 52-2096532